Cafe Cantante/Live
6 consecutive Sundays **ALL FREE!**
NEXT SESSION, Sun., Dec. 6 @4pm (EST) / @1pm (PST)
Siempre Flamenco invites you to zoom with us, every Sunday @ 4pm (EST) at Café Cantante/Live. This innovative virtual and interactive flamenco event features special guest artists from across the globe, sharing their artistry with you.  Join us and let yourself be inspired and surprised by flamenco in times of Corona.
In Spanish with English/Spanish Q&A!
Each week, the artists will premiere their especially commissioned performances for this event and engage the zoom audience with a Q&A. Siempre Flamenco founding members, Paco and Celia Fonta will be your hosts.
Join with Zoom ( pre-registration required )
or watch live on YouTube
This program is made possible with the support of the Miami- Dade County Department of Cultural Affairs, the Cultural Affairs Council, The Miami Dade County Mayor and Board of County Commissioners.
Nov 29– Morenito de Illora
Register here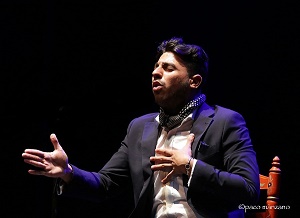 (Father and Son )
Morenito de Illora's singing style is steeped in the heritage of his gypsy ancestors. He is one of the major flamenco singers of the moment, respected for his immense knowledge along with his unique interpretation. He possesses all the virtues that a flamenco singer must have: temperament, courage, understanding, compass and sensitivity.
Jose "Morenito hijo" follows in his father's path by continuing the Moreno saga of Flamenco. He began singing at a very young age and has not disappointed in the promise he revealed at 9 years of age to become a flamenco great. Jose already has an impressive artistic background, having traveled throughout Spain, performing at festivals and with important flamenco companies, most notably with Tomatito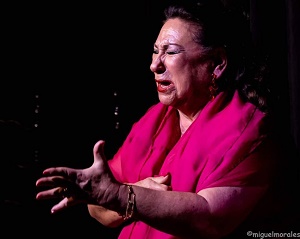 Dec 6– Maria Vargas with an introduction by Estela Zatania
Register here
Maria Vargas is pure gypsy, and her singing style is steeped in the heritage of her ancestors. She is a serious singer, devoted to the study of Cante Jondo, or deep song of flamenco, a master of all the flamenco styles. Maria is from the port town of Sanlucar de Barrameda in Cadiz and has been singing for over fifty years. Recently she has received the legend of flamenco award and the most prestigious gold medal of fine arts award from the Spanish government. She is one of a few remaining singers of her generation.
Dec 13– Flamenco dance
Juan José "el Junco" dancer
with Susana Casas, dancer
El Mati, singer
Miguel Perez, guitar
Register here
"El Junco" is a major star of flamenco and Flamenco Spanish dance. He has over two decades traveling around the world, with both solo projects and with his company. In addition to receiving excellent reviews from both the press and the public, the talent of Juan José "El Junco" has led him to great achievements and recognition.
Dec 20– Siempre Flamenco and Expo Flamenco
In this episode we will visit with Jafelin Helten. Jafelin is the founder and international ambassador for the popular worldwide flamenco website ExpoFlamenco.com.
Register here
Dec 27– Siempre Flamenco Miami
Register here